According to the report published by the Federation of Indian Chambers of Commerce & Industry (FICCI), the coworking industry's market share in the commercial office space leasing industry in India has increased to 12% this year in 2019, up from last year's 8% in 2018 and, 5% in 2017. It estimates that this upward trend will continue in the foreseeable future in 2020 and beyond. According to the Economic Times newspaper, the growth of the coworking industry in India is on steroids and also created huge  Demand for co-working space in Whitefield Bangalore
Bangalore is one among the top among startups, small businesses, freelancers, and entrepreneurs, this concept has gained momentum all over and has seen significant growth across all the major cities.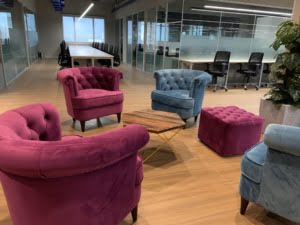 Bangalore is considered to be the key marketing for almost every company in India being the IT Hub. The Silicon Valley of India has witnessed the highest coworking transaction With various companies taking part in the race of opening shared office spaces in Bangalore.
The high availability of flexible workspaces has made Bangalore one of the most preferred cities to set up startups as well as small businesses.
Being among one of the fastest-growing cities of India, Bangalore has an ample amount of scope for almost every industry. 
Areas like Whitefield, HSR Layout, Indiranagar, Koramangala, Outer Ring Road, and Central Business District have the maximum number of coworking shared office spaces. 
Until the late 1990s, Whitefield was a small village settlement and the residents were primarily engaged in agricultural activities. The entire region has evolved significantly over the past two decades primarily due to the development of Bengaluru as a major IT-ITeS hub. Setting up of Export Promotion Industrial Park (EPIP Zone ) and International Tech Park Bangalore (ITPB) has attracted many multinational companies to Whitefield. Both EPIP and ITPB houses offices of reputed global IT-ITeS companies and such tremendous growth has transformed the silent catchment of Whitefield to a buzzing and crowded Peripheral Business District (PBD) of Bengaluru. In addition to a buzzing commercial office market, excellent connectivity to various parts of the city, growth of educational institutions, five-star hotels, malls, and a number of high-rise complexes in nearby areas has made Whitefield a prominent residential suburb of Bengaluru.  
Connectivity and Social Infrastructure 
In Whitefield are well-connected to other parts of Bengaluru by Whitefield road via Mahadevapura and Varthur road (HAL Old Airport Road) via Brookfield and Marathahalli. Whitefield railway station is easily accessible and connects the region to other parts of the country. Whitefield also has an extensive city bus connectivity with a wide range of services offered by Bangalore Metropolitan Transport Corporation (BMTC). A Traffic and Transit Management Centre (TTMC) in EPIP is functional with scheduled buses connecting Whitefield to other parts of the city. Metro rail connectivity Phase II of Namma Metro's east-west line currently terminating at Byappanahalli is likely to be extended until the ITPB in Whitefield. This corridor will have 14 stations and will significantly enhance Whitefield's connectivity to other parts of the city. Metro rail, once operational, will significantly reduce the dependence on roads and decongest the region Key Retail Malls Shopping malls such as The Forum Neighborhood Mall, Phoenix Market City, Park Square Mall, Inorbit Mall, Brookfield and entertainment centers such as IONA Entertainment are located in the nearby areas. Super Specialty Hospital Sri Sathya Sai Institute of Higher Medical Sciences, Vydehi Institute of Medical Sciences and Research Centre are the major super-specialty hospitals in Whitefield.  
Major Growth Drivers: 
 Extension of metro rail line up to Whitefield will significantly boost the region's future growth potential  Improving physical infrastructure including the flyover on The Outer Ring Road (ORR) and proposed eight-line Peripheral Ring Road (PRR) will improved connectivity to Whitefield and ease traffic movement from workplaces to residential clusters.  2015 Bangalore Master Plan has marked the planning district of Whitefield as a priority area for IT-related activities mixed with residential development. IT special economic zones (SEZs) spanning over 250 acres have been planned at Hoodi village in Whitefield, Bagur village in Hoskote taluk, and Devarabeesanahalli, Boganahalli, and Bellandur in Varthur. Well-connected infrastructure makes Whitefield the preferred Expatriates domain in East Bangalore.
Due to Demand for co-working space in Whitefield Bangalore so  Evolveworkstudio is best co working  place for startups, freelancers, small, medium and large companies.